Need Skilled Tree Loppers You Can Count On?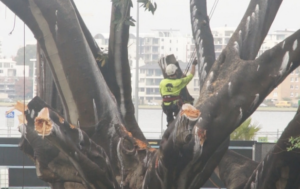 Managing trees on your own without an extra set of hands of an expert is not an easy task, especially if they are sapping, leafing or if the trunk cracks. Sometimes trees can outgrow their locations and big branches can break off dangerously, interrupting household functions, destroying your structural buildings or even harming family members. Also, the trees can grow inelegantly and block the view, resulting in too much shade which affects the garden's plant life. At this point tree lopping is necessary, and we're right here to help you.
We are committed to provide extensive tree lopping services for all your landscaping needs in Sunshine Coast.
Hire the service you can trust
With several years of experience, we are well positioned to offer flawless tree services for your home or business needs. Expect nothing less from us than high-quality services- as well as complete safety. We know how much you value your business or home; therefore, we will do our utmost to protect this great investment with the highest safety standards.
Why our Tree lopping services?
Fully Insured – We're professional and trustworthy service providers who consistently provides high-quality service for all our clients.
Skilled Arborists – Our staffs are experienced and have excellent skills, providing superior service that our competitors can't. We adopt a personalised approach that best suits the specific problem that you are facing, and will help you achieve the desired results.
Right Tools and Equipment – We possess the suitable pruning shears, ladders, rope and other equipment necessary to get the job done.
Safety Tree Looping Procedures – Our teams of experts always employ safety measures in every stage of work and exercise it while using the suitable machinery that is needed.
Competitive Rates in Sunshine Coast – We offer first class service at a very affordable price. We' will send you a quote that covers a full cost of your project.
Don't wait any longer to contact us and find out more about our services and rates! We 'will be much pleased to deliver the most comprehensive tree lopping solutions for your home or business with a key focus on quality.